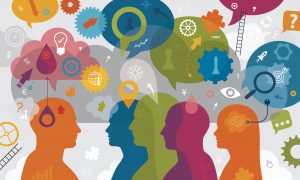 Facilitating change: We have extensive experience of supporting change within the higher education sector. We offer support to leaders, managers and staff through a combination of (1) coaching and consultancy, (2) facilitation of workshops to identify challenges and to agree change actions and plans, and (3) supporting internal and external stakeholders in sharing their views and concerns. Much of this work utilises visual facilitation techniques, for example, the development of metaphors to reflect current and future states. This enables wider exploration and discussion of challenging issues. The outcomes of this work can range from identifying tactical changes through to developing long-term strategies. Recent projects have supported the development of an organisational strategy for a worldwide research collaboration, resolving complex strategic questions for higher education institutions, and supporting the development of learning and teaching strategy.
Developing evidence for culture change projects: We have undertaken commissioned research into the experience of researchers, academics, and professional service staff at several universities to support culture change projects.  The research approach, combining quantitative and qualitative methods, has provided institutions with robust evidence to develop interventions to effect meaningful change.
Project planning and definition: With a background in project management, MY Consultants supports research and professional service teams within higher education in better defining project plans and improving project definition. Working with a well-defined project methodology, we can improve the quality of the planning process and accelerate the rate of progress at this stage of the project. We can cover a wide range of project-planning elements including risk, schedule, communication, and scope definition.
Team development: When teams are not performing effectively or are struggling because of interpersonal challenges, we support managers in developing interventions to address these issues. Working through a facilitated process, informed by models and frameworks such as MBTI and EQi2.0, we work with teams to resolve underlying issues and bring about real change.
Working impartially with stakeholders: When it is important to have space for stakeholders to air their views, facilitation can play a key role in ensuring that people are heard. MY Consultants facilitators are experts at designing workshop processes to enable this. Work that we have recently completed includes supporting stakeholder engagement in research projects, and enabling the views of staff undergoing significant change to be heard within organisational context.
Evaluating interventions: The MY Consultants team has experience of supporting organisations in understanding the impact of their training and development interventions. Through a mix of qualitative and quantitative methods, we support teams in evidencing their impact, and in identifying routes to the enhancement of learning and development processes. Projects have included the evaluation of a UK-wide training intervention for postgraduate students and the evaluation of a development programme for new academics.